Testimonials: what clients say about my work
Ruby (Cavalier King Charles Spaniel)
"A dear friend of mine lost her beloved dog. I commissioned a painting of her dog for her from Hope Lane. She worked well with my friend and the result was beautiful! It was all that we could have wished for and more. I'll be hoping she'll do a portrait of one of my own dogs in the near future. Thanks again to Hope Lane!"
Christine Snyder, Seattle, WA
Jasper and Alice (Havanese)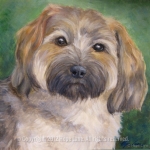 "I am writing this letter to highly recommend Hope Lane with painting your pet's portrait. I had the pleasure of getting 2 of my dogs painted by Hope, she asks for your opinion and your input with every stage of the process. Even when I told her one of the portraits was complete, and ready to finalize, I realized I needed a change on the portrait…Hope fixed it right away. Hope is an extremely talented and kind lady, I wish I would have gotten to meet her in person. I will definitely get Hope to paint more portraits of my dogs in the future, you will not be disappointed!"
Leigh Stamp-Elliott, Ontario, Canada

Morgan (Cavalier King Charles Spaniel)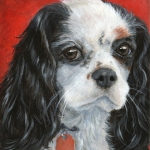 "I saw a photo of a painting of another Cavalier King Charles Spaniel on Hope's website so I knew she was a capable artist, and understood the head structure and facial expressions of the breed.
Our tri-color, Morgan, however, doesn't have traditional markings so I knew it would be a challenge to email enough photos to Hope so she could faithfully translate Morgan's look. We're thrilled with the final result, but I was even more pleased with how much I enjoyed working with Hope by phone and email.
Hope is truly a "collaborative" person, and welcomed my direction ("the spot to the left of the nostril needs more brown").
The painting was a surprise birthday present for my wife. I only wish I had captured a photo of the "OMG !" expression on my wife's face when she opened a Banana Republic box expecting a scarf or hat."
Stuart Zuckerman, New York

Ozzie (Yellow Labrador Retriever)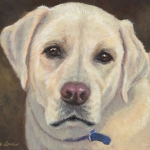 "I was so thrilled with my final portrait of our dog Ozzie. Hope kept me informed thru each stage of the painting process and she really captured the dogs gentle spirit."
Elizabeth Blake, Florida

Huckleberry (English Setter)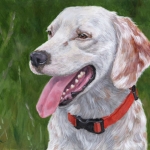 "Loved the painting! Thank you so much. Very quick turnaround! The painting turned out better than I could have imagined & everyone keeps asking where did I get it done so they can have a custom pet portrait as well! Thank you so much again for the wonderful painting so we can always remember our sweet Huckleberry even though he is no longer with us!"
Kristen Long, Texas
Waiting Westie Painting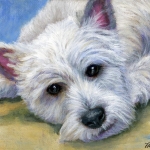 "Very talented artist! Love the painting. Fast."
Louise Latham, Illinois
Ivy (Cockapoo)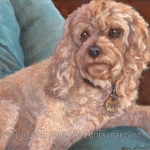 "OMG i love it!!!!!!!!!!!!!!!!!!!!!!!!"
Karen Healy, New York

Bella (English Springer Spaniel)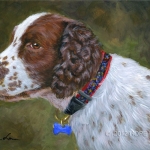 "We got it last night…It looks wonderful and just like Bella, you have a real talent! Thank you, we love it."
Christie Heller, Colorado

Sequoia (Labradoodle)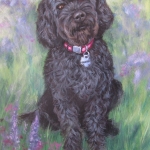 "We received the painting today and absolutely love it! I can't wait to find a frame and put it on the wall. Thank you, thank you!
Hope Lane is a talented artist and high caliber professional. Her step-by-step approach made me feel a part of the creative process yet still left me surprised by the beauty of the finished portrait. Her true artistry showed through her accurate translation of my verbal desires and a few photographs into a final masterpiece. She not only captured my dog's image but also illustrated his inner personality. "
Stephanie Ostrow, Colorado

Wheezy (mixed breed)
"I commissioned Hope to paint a picture of our dog. Not only was it unbelievably realistic, but Hope also captured his true personality in the most amazing way. Hope communicated every step of the way from consultation to final product which was fun, and she's just super to work with. I couldn't have been more pleased with the painting.
She is an unbelievable artist and her paintings surprisingly are quite affordable.
There is nothing that beats an original and real painting and it made the most perfect gift and wowed the whole family when unwrapped. Whereby Wheezy has since passed, the painting of him allows him to live on forever!"
Sharon Freed, Florida

Rio (German Shepherd)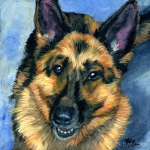 "Luv luv the picture"
Robin Ventura, Connecticut