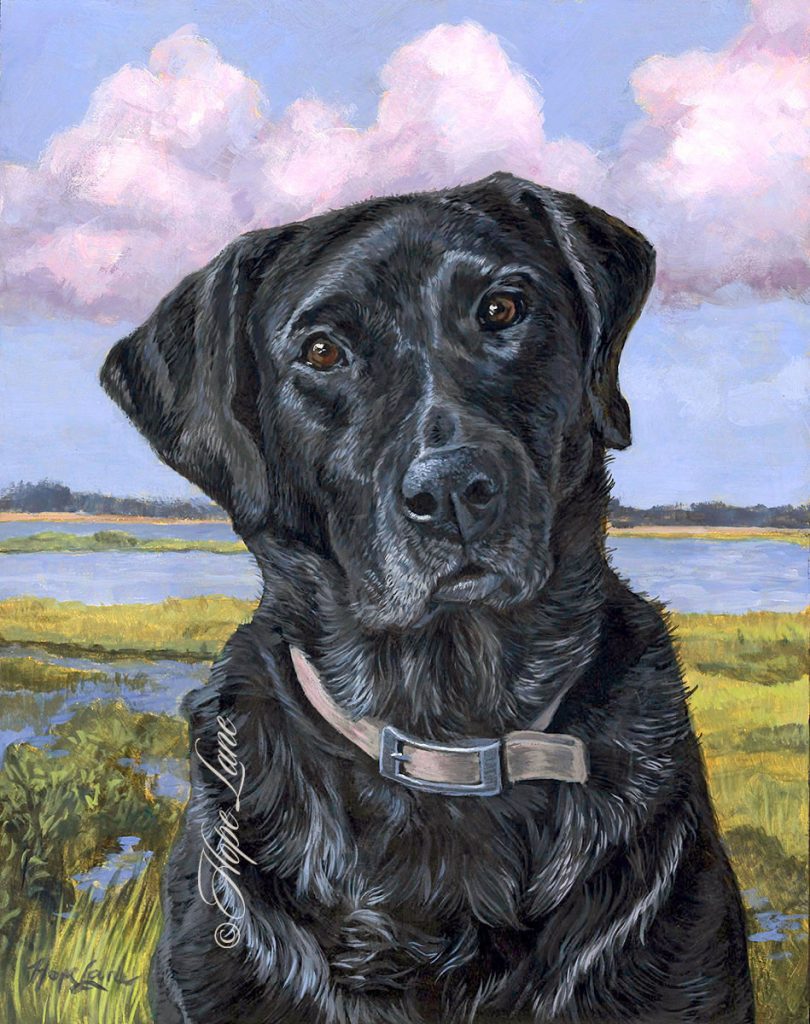 Pac, A Black Labrador Retriever by Hope Lane, 9″ x 12″ acrylic www.hopelaneart.com
The final commissioned painting is a long step from my last photo. You can't actually see the bright yellow background I first put in, but trust me, it made a difference in how lively the finished painting feels. There are little peeks of yellow that show through the grass and even the clouds.
I love painting black dogs, and Pac is a good looking one. The challenge is to find enough detail in the dark fur to make it look like fur and not a big black blob–but to still make sure the dog reads as a black dog. Pac's coat was painted with a combination of lamp black, payne's gray, prussian blue, dioxizine purple and white. There might even been a bit of alizarin crimson. I especially enjoyed trying to capture the different textures between the fur on his face and that of his chest.
The painting arrived at my client's house and she was very happy with the result. In her own words…
"This is my second purchase from Hope Lane and as always our fur baby portrait didn't disappoint. Hope is always a pleasure to work with and communication is wonderful as she works her magic to make sure your painting is just what you (the customer) want! The detail and time put into Hope's work is worth every penny. Highly recommend Hope and her work."