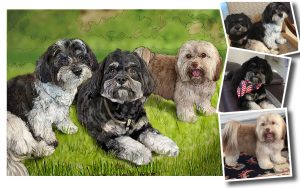 Once upon a time there were three little Havanese, Elmo, Gigi and Trubble. Elmo is a big boy and the "Number One Good Dog"…and supervisor of his little sisters. Gigi the big sister, is the smartest girl at her agility school and little Trubble is the forever baby, adorable and loves attention.
This painting will be a larger one, and while the client had many great photos of her three dogs, I wanted to combine some different ones to create an image where all the dogs were looking at us. We also decided that placing them on a grassy background would work well.
This is the photo composition sketch that I created before starting to paint.